Pink Flamingo LED Dog Collar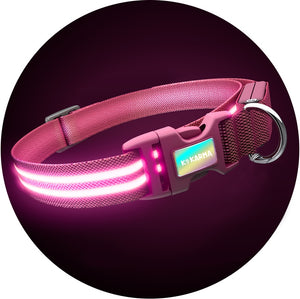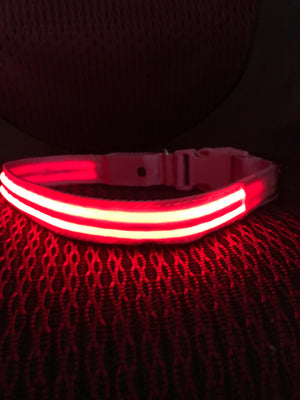 Product Description
Measurement
Shipping
BB's LED dog collar by K9Karma is the solution to the senseless maiming and killing of pets and owners every year due to distracted drivers and cyclists. It happens thousands of times a night in every country all over the world. Thanks to the LED collar and leash you can protect yourself and your pet from becoming a preventable statistic.

Features of BB's LED Collars are: Light weight, Twin (2) Light Up Optical Fiber LED Strips, USB Rechargeable with free USB included, The Always illuminated plus 2 other speed functions for strobe effects, On/Off Switch, Thick hand-woven material, Snap buckle, Force tested, and emits 5 hours of LED Light for every 1 hour charged!
BB's LED-illuminated collar by K9Karma provides optimal visibility, ensuring that everyone -- and vehicles -- can see you and your best friend at all times. Looking for even more options and visibility? The LED dog collar pairs perfectly with any of the matching LED dog leash's choose a combo set today for a discount instead of buying separately.
How To Pick The Correct Collar Size
Step 1. Measure your dog's neck 
Measure your dog around the top of the neck directly behind the ears. We recommend using a cloth measuring tape.
Step 2. Add 1 to 3 inches to your dog's neck size 
Generally speaking you should add 1 inch for small dog breeds (less than 10 pounds), 2 inches for medium-sized dogs and 3 inches for larger dog breeds (weighing over 80 pounds).
Step 3. Check the collar size chart below 
Now that you know your dog's neck size and have added 1 to 3 inches you can check out the collar size chart below. Please keep in mind that we will only offer what we have available to be selected on the site. If you do not see a size from the size chart on the website then we are out of that size. Harness is best fit for smaller dogs. Our collars run a little on the larger size so if you measure and receive the collar and it does not fit we will gladly ship you a return label with the correct size. Please just email us at: help@bbsemp.com 
Important: Our LED Dog Collars are adjustable in size. That's why the size chart below includes the minimum and the maximum collar length.
| | | | |
| --- | --- | --- | --- |
| Size | Min. Collar Length | Max. Collar Length | Collar Width |
| X-X-SMALL | 8.6" | 11.4" | 0.79" |
| X-SMALL | 9.0" | 13.7" | 0.79" |
| SMALL | 13.0" | 17.0" | 0.99" |
| MEDIUM | 16.0" | 20.0" | 0.99" |
| LARGE | 19.0" | 24.0" | 0.99" |
| X-LARGE | 21.6" | 27.5" | 0.99" |
At the moment we only ship to the US & Canada please check back for updated countries soon!

We will ship to any other country, please just send an email to help@bbsemp.com and we will work with you to send out your international order - Intl shipping rates will apply.

US Orders:

We ship to all states (including Alaska and Hawaii)
Standard shipping with tracking via USPS. The shipping time is usually 3-6 business days.
Expedited shipping with tracking can be purchased for an additional fee. The shipping time is 2-3 business days.

Canadian Orders:

Shipping with tracking is $12.99. The shipping time is around 6-11 business days, depending on where you live in Canada.

A tracking number is provided to you via email once your items are shipped.
Please note that the shipping times are estimates only. We are not responsible for any shipping delays.
We are not responsible for lost or stolen parcels once they are confirmed to be delivered by the courier to the shipping address the customer provided us with.

For inquiry for Refund or returns please email: help@bbsemp.com
The Dog Pound
Reviews From Our Happy Community
⭐️⭐️⭐️⭐️⭐️

"I love my LED collar so much it really helps when my family walks me at night, and everyone who we walk near always asks about my light up collar and leash, we love the attention! Thank you so much K9Karma, Im telling everyone I know to get one!!"

- Max (submitted by Max's Family)
⭐️⭐️⭐️⭐️⭐️

"This is Winston and he is a true gangster, lol. I love his harness. He is the talk of the town for sure. I bought him the Green Harness and it fits him wonderfully and I still can't believe how cool he looks at night. I am going to get a matching this week. Can't Wait!"

Melvin C.
⭐️⭐️⭐️⭐️⭐️

"Look at my little Bella in her perfect Harness! Its so bright at night I love it especially since Bella is all over the place. Everyone can see her for sure! I love the leash too!!! Will def buy again. Thank you!!!!"

Ashley D.
⭐️⭐️⭐️⭐️⭐️

"Woof! Woof, woof, woooof!"

- Diogie

"Translation: Diogie LOVES his light up collar! Almost as much as I do"

- Diogie's Owner
⭐️⭐️⭐️⭐️⭐️

"I have to say these were a great buy! We bought a blue LED collar and leash using a discount code from their fb page. Saved us good money and it was more than worth it. Really cool product. It really works good. Everyone will see you when its dark outside for sure - and they look really cool all lit up too. Thanks for the discount!"

Katie & Ron